/ˈʌnsɪnət//ˈʌnsɪneɪt/
adjective
Anatomy
Having a hooked shape.
Origin
Mid 18th century: from Latin uncinatus, from uncinus 'hook'.
==========
The scorpion had an uncinate tail with an uncinate stinger at the end. John was hooked on scorpions.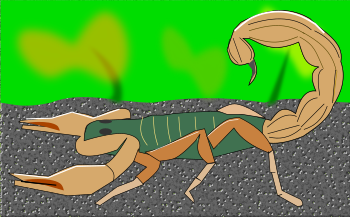 =====
Though the scorpion is "like" a bug, it isn't. It isn't even an insect, to which the bugs belong. It is an arachnid, the animal group best known for spiders. The first set of legs are modified to be claws.
Always check your boots for scorpions before you put them on. –wise southwest advice for cowboys