/rəˈmuːdə/
noun
North American
A herd of horses that have been saddle-broken, from which ranch hands choose their mounts for the day.
Origin
Late 19th century: via American Spanish, from Spanish, literally 'exchange, replacement'.
∢∢∢∢∢∢∢∢∢
Randy rode the roan wrangled from the rugged ranch's remuda. Bonnie was his favorite ride.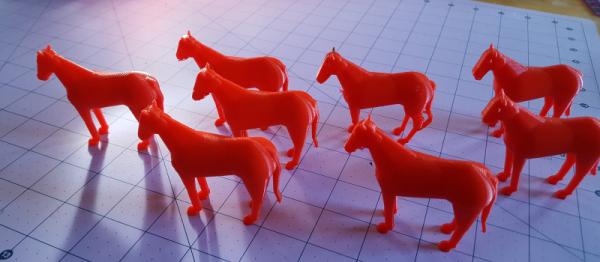 =====
There.
That's the forewarned illustration. If you look carefully, the far back horse has a shortened chin which fell off because of the failed print. The chin needed a support column and a brace between the chin and neck to make it print properly. The one behind/right from that one has a back leg that's offset in the middle. All the iterations paid off eventually, and I'll be writing up my notes on how the horse went together in the next few days. I'll update this post with a link.