/balˈθazə/
noun
A very large wine bottle, equivalent in capacity to sixteen regular bottles.
Origin
1930s: from Balthazar, the name of the king of Babylon, who 'made a great feast … and drank wine before a thousand' (Dan. 5:1).
—♦—♦—♦—♦—
Bob bought a bunch of basic bottles for the wedding party, but also splurged, ordering a balthazar from the vintner.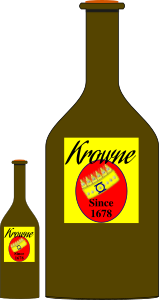 —–
Being a non-drinker, I have no real interest in sniffing, sipping and swirling wines. I'm more interested in simply quenching my thirst. I do, therefore, approve of the idea of a big bottle. Though such a giant as the balthazar would not make for a portable potable.