(also bhikku)
/ˈbɪkuː/
noun
A Buddhist monk or devotee.
Origin
Pali, from Sanskrit bhikṣú 'beg'.
☯ ☯ ☯ ☯ ☯
Manu walked sedately along the path. It was just an ordinary village dirt path, but on it, he felt he could follow the bhikkhu's path as well.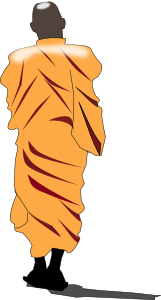 —–
A devotee implies a dedication and a focus. The journey of a monk often starts young and it lasts a lifetime.