Noun/ˈɔːnəm(ə)nt/
Verb/ˈɔːnəmɛnt/
noun
1 A thing used or serving to make something look more attractive but usually having no practical purpose, especially a small object such as a figurine.
1.1 mass noun Decoration added to embellish something.
1.2 A quality or person adding grace, beauty, or honour to something.
1.3ornamentsMusic Embellishments made to a melody.
2 usually ornaments – Christian Church – The accessories of worship, such as the altar, chalice, and sacred vessels.
verb
[with object]
Make (something) look more attractive by adding decorative items.
Origin
Middle English (also in the sense 'accessory'): from Old French ournement, from Latin ornamentum 'equipment, ornament', from ornare 'adorn'. The verb dates from the early 18th century.
—♥—♥—♥—♥—♥—
Today's word choice was made "after" the Tux Linux mascot 3D ornament design was done.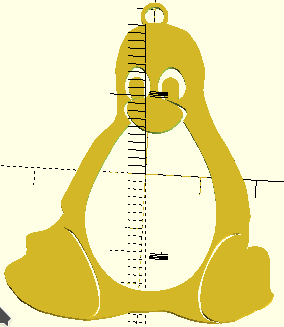 Doing 3D printing is another hobby, along with words. Sometimes they cross paths.