/dʒəˈlɑːtəʊ/
noun
mass noun
Italian or Italian-style ice cream.
count noun 'a cafe famous for its mouthwatering gelatos'
Origin
Italian.
-=-=-=-=-
Tina told Terry she preferred gelato over ice cream. True 'Murican that he is, Terry prefers ice cream.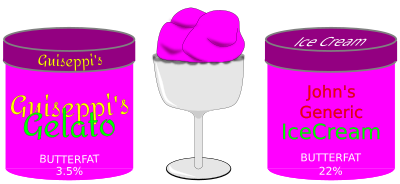 Okay, the question remains, is it gelato or is it ice cream in the served cup?
Also, what flavor?
Are those things important for the illustration to make clear?
Not that it matters, but I'm a fan of ice cream. I'm not even sure I have ever had gelato. My son says the gelato he can get in Vancouver is the very best he's had. I seriously doubt we'll go there just for the gelato.